Hi everyone! In case you missed the Preschool/Kindergarten Registration the last few weeks, we have one more chance to get your child registered! Spots are filling up fast in our preschool program. You could qualify for FREE TUITION! Preschool is 5 days a week and it is in our school. It makes for an easy transition to Kindergarten!

Don't forget NYES! There will be a DISTRICT-WIDE 2 Hour Early Release on Friday, March 10th. Buses will be leave the district at 1:30. Walkers should be picked up at 1:15. Thank you!

We are POSTPONING the first AMESC-NY Parent Cafe. The first parent cafe will be Tuesday, March 13th. Please call to reserve your spot! Thank you!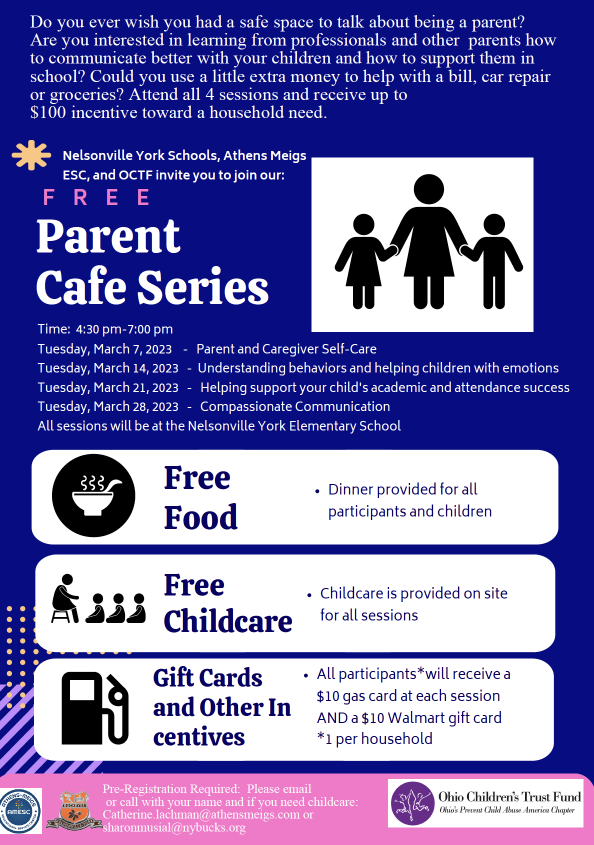 Attention NY Parents: NY is partnering with the Athens Meigs ESC to host our first series of Parent Cafe. Please see flyer for more details. Thanks! Please call Sharon Musial for more details.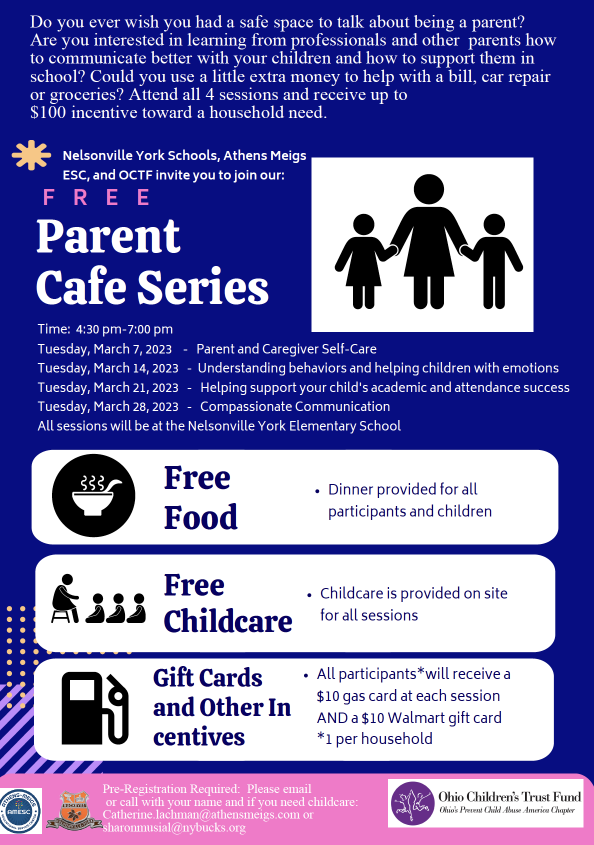 Attention Parents Guardians, Ninth Street in Buchtel will be closed this morning for tree removal. This is the street used for Parent Drop off in the morning (Behind Boston Field). Thank you!

Calling all Preschool and Kindergarten students for the 2023-2024 School Year! NYES is having registration for incoming preschool and kindergarten students on Tuesday, March 14th, Wednesday, March 15th and Thursday, March 16th. Please call the office to schedule an appointment. 740-753-5145!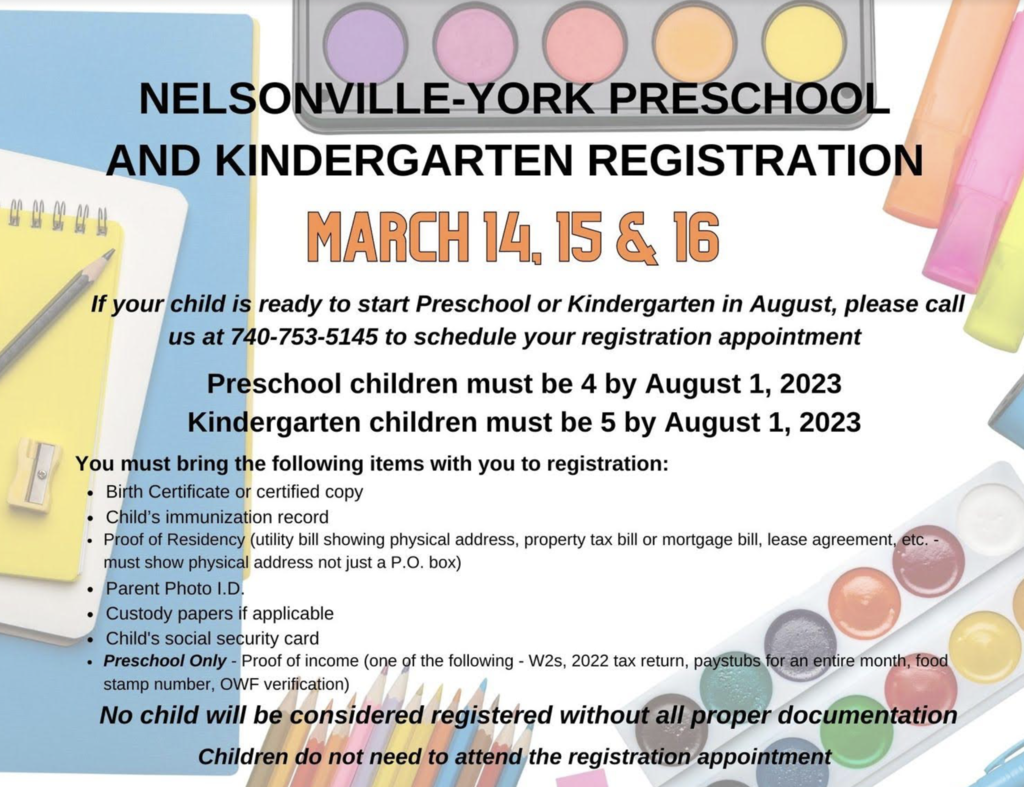 Our February Newsletter is available under News! Please take a look!




Hello everyone! Here is the newsletter for December! Here's to another great month at NYES!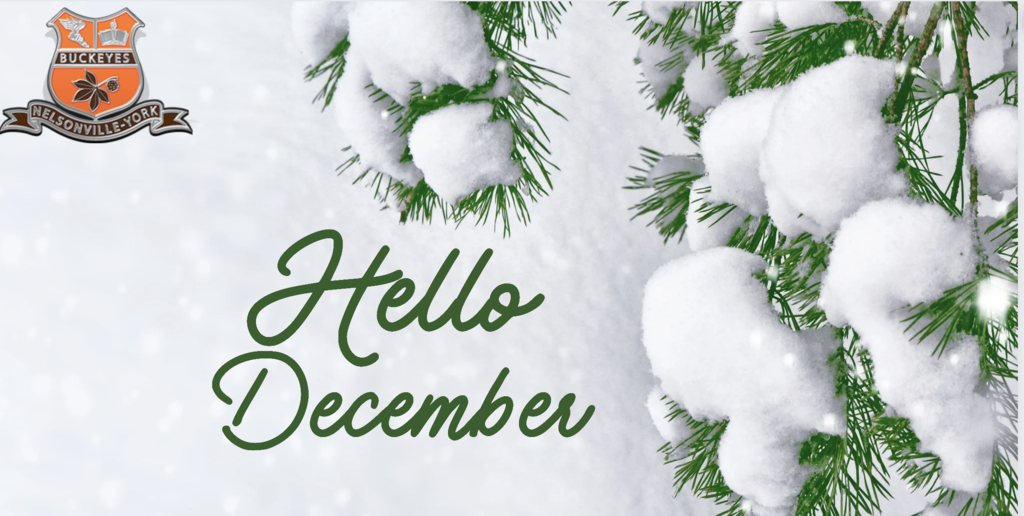 Hello everyone! Just a reminder that all schools will dismiss at 1:30 on Thursday, October 20th. This is the last day of the nine weeks. It is also PJ day for the elementary. Thank you! Also, Nelsonville-York City Schools will be CLOSED on Friday, October 21 and Monday, October 24 for Fall Break. Thank you!

Reminder: All buildings will dismiss at 1:30pm on Thursday, Oct. 20th. School will be CLOSED Friday, Oct. 21st and Monday, Oct. 24th for Fall Break

Kids on Campus will begin on Monday! If you haven't signed up, there is a wait list but the forms are in the office. Please call the office on Monday if you have any questions and we will direct you to our KOC coordinator. Thank you!

HI everyone! Don't forget! We have a two hour early release on Thursday, October 20th. We will also have parent conferences that evening from 4:00-7:00PM. Students will have Fall Break on Friday, October 21st and Monday, October 24th. They will return on Tuesday, October 25th. Picture Retake day is Tuesday, October 18th and Tuesday, November 8th. Our Ohio University Partnership students will be hosting a math night in the elementary on Tuesday, October 25th. Please be looking for more information to be shared soon. NYES still has several families who do not have their Online Registration completed. We need this information in case we need to get a hold of someone in an emergency and also included in the online registration is permission for your child to go on field trips. Please call the office to ensure your Parent Portal account is set up and we can help walk you through Online Registration. The deadline is Monday, October 31st. Thank you! These are all the updates I have to pass along. I hope you have a great weekend!

A Message From Roots Photography: Nelsonville-York Parents!! It has come to my attention that nobody who ordered online has received their photos yet. After looking into it, it appears that the print lab did not receive the order through our software. We have resubmitted the online orders and they should be delivered to the school by the end of next week. We are so sorry for this delay!! Technology is great when it works correctly. 🥴 If there are any questions, please reach out to us here, by email, or by phone. Thanks for letting us serve you! 🧡🤎

Hi everyone! Don't forget! NYES will have Parent Conferences this Thursday from 4:00PM-7:00PM. Teachers in K-3 schedule their conferences and teachers in 4th and 5th have an open format and there will be sign up sheets for each teacher. Childcare will be provided in the cafeteria during conferences. Thank you! Have a great evening!

Hi everyone! We made a little mistake on the colors for Tuesday during our Spirit Week. Preschool should wear Blue and Kindergarten should wear Red. I apologize for the misinformation. This is for Tuesday, October 4. Thank you very much!

Don't Forget the Scholastic Book Fair is next week! Also, Nelsonville-York Homecoming is next week! NYES will have their own Spirit Week. Please look at our themes for each day! October 3rd-7th Monday- Crazy Hair Day Tuesday- Grade Level Color Challenge (see below) Wednesday- 80s Day Thursday- Superhero Day Friday- Buckeye Spirit Day PreK- Red Kindergarten- Blue 1st Grade- Green 2nd Grade- Purple 3rd Grade- Yellow 4th Grade- Orange 5th Grade- Brown Thank you and have a great weekend!